A tradition of hospitality
Hotel KONRADIN in Kühtai, Sellraintal
The Sport- und Wellnesshotel KONRADIN in Kühtai extends you a warm welcome. A laid-back atmosphere, culinary delights and many great experiences that you will remember forever: in KONRADIN in Kühtai, Sellraintal, at 2,020 metres above sea-level, you will enjoy a winter holiday just the way it should be.
Bernhard and Julia, the entire Schlögl family and all KONRADIN employees are looking forward to an unforgettable winter together with you.
A host family is at the heart of KONRADIN
The beginnings of today's family-run 4-star hotel go back to 1964. Hotel KONRADIN in Kühtai, Sellraintal, called after Konradin, the last noble offspring of the Hohenstaufer dynasty, was taken over by Antonia and Josef Haslwanter from Silz in 1964.
Their daughter Marlies and her husband Siegfried Schlögl took over the hotel in 1972. Convinced of their calling to run the hotel, the couple expanded the operation with a lot of passion. And the family tradition was passed on once again to the next generation: the third generation, Bernhard and Julia, have now been running the four-star Hotel KONRADIN in Kühtai since 2004.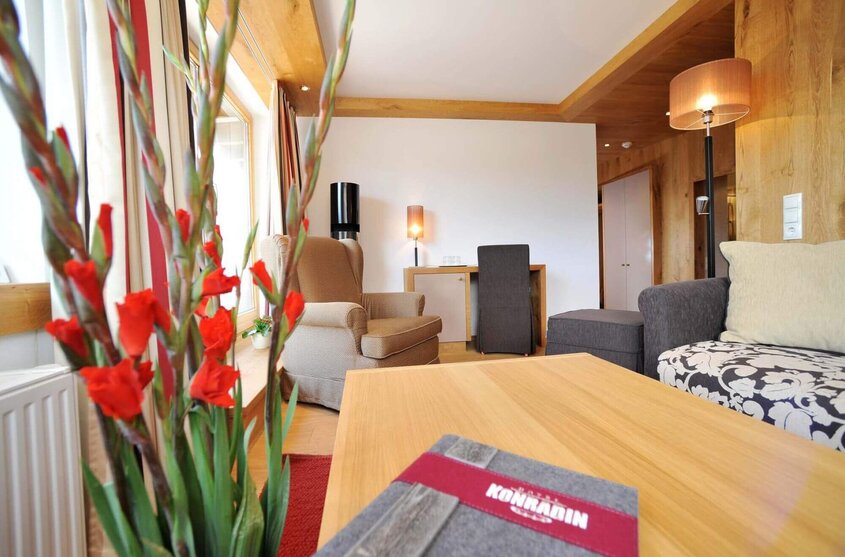 Delicious foods from breakfast to dinner
Enjoy the culinary delights that we have to offer while taking in the magnificent panorama view – mornings, evening and anytime in between in the 4-star Hotel KONRADIN in Kühtai, Austria.

Welcoming address:
A little welcome is waiting for you in your room or your suite.

Morning delight:
Crispy, savoury, healthy foods full of vitality from our breakfast buffet for the best possible start to your day.

Evening dinner delights:
5-course evening meal with various dishes to choose from, vegetarian meals, daily salad buffet.

Special selection:
Diet cuisine, gluten-free dishes, menus for allergy sufferers upon request – please inform us in advance of your arrival to allow us to be optimally prepared to meet your dietary needs.