Information about your holidays at the Hotel KONRADIN
Terms and Conditions
Arrival:
Check in depends on availability. The room is available to you from 15:00. No discount for late arrivals or early departures.

Departure:
Rooms must be vacated by 11:00 on the day of departure.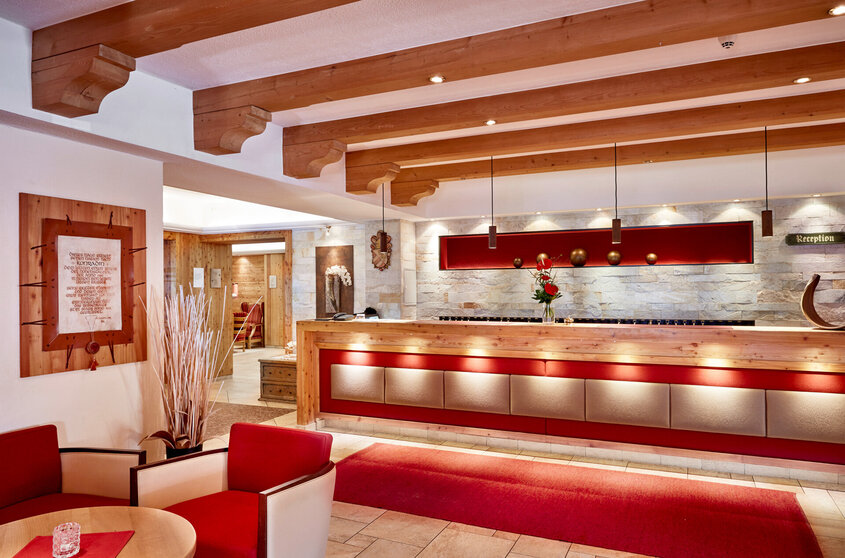 Secuiring reservations:
We require deposit of € 330 in the winter per room. Please credit our account:

Bank: Hypo Telfs
BLZ: 57000
SWIFT: HYPTAT22
IBAN: AT91 5700 0001 4003 1073

Flight connections:
Numerous airlines fly direct to Innsbruck several times a week. You can get to the hotel by Kühtai taxi, from € 75 per journey. We will be happy to organise a pick-up service with our all-wheel-bus. Just let us know your time of arrival. (Transfer costs provided upon request).

Pets:
On request. Cleaning charge is € 15 per pet and night, no food included.

Credit cards:
We accept Visa, Mastercard and EC Card. Cash payment is preferable.

Prices:
Prices per person and night with half board and all other inclusive services, excl. local tax (from age 15). Subject to change without notice.
The winter packages can also be offered for individual lengths of stay on request.

Prices are valid from 3 nights - less than 3 nights - surcharge of10 % - depending on the category. Suites are also bookable for 2 persons - surcharge of 10 % depending on the category.

Surcharge for single use - ca. 15 % - depending on category.

Overnight stay with breakfast only: minus € 12,- per person and night for adults.

Children discount: With two full-paying guests in double rooms: 0 to 3 years: fixed price of € 28,- per child and night. 4 to 16 years: Minus 50 %. From 17 years on request. Suites depending on number of persons according to price table.
Taxi:
From Innsbruck/Munich main train station/airport (from € 75 per journey).

Underground car park:
€ 15 per car and night. Free power for e-cars upon reservation.

Shop rental:
Direct in the house there is the ski rental Heidegger.

Ski school:
100 meters from the hotel there is the 1st ski- and snowboard school in Kühtai with a versatile range of courses.

Cancellation and Travel insurance:
We recommend that you take out travel insurance, which you can arrange through us. We would be happy to tell you about it.

The general terms and conditions for the hotel industry (AGBH 2006) apply.

The Party may rescind the Accommodation Agreement by means of a unilateral declaration by 3 months before the agreed date of arrival of the Guest without being liable to pay a cancellation fee. Outside this period the Party may only rescind the Accommodation Agreement by means of a unilateral declaration subject to the following cancellation fees:

40% of the total agreed price by 1 month before the date of arrival
70% of the total agreed price by 1 week before the date of arrival
90% of the total agreed price within the last week preceding the date of arrival

All information is provided without warranty; errors are excepted and prices are subject to change. Place of jurisdiction is Silz in Tyrol. As regards the diversity of our rooms/suites, descriptions may differ, but this will not lessen the price.
The offer of european travel insurance
Travel insurance can be taken out directly with us when booking a room.

If you have any questions please call us anytime at the KONRADIN reception. Preliminary you can send us your questions via mail or send us directly an enquiry without obligation.